Interview with Pepyn Swagemakers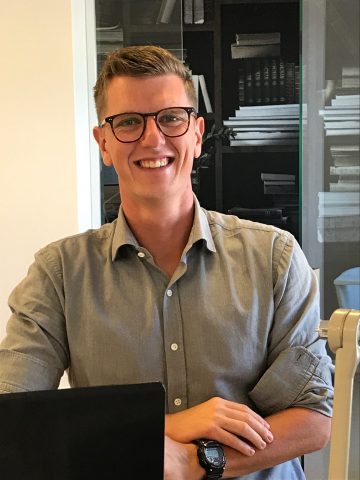 Pepyn started at Certaincy just a few months ago. One of our consultants recommended him to us. Ever since we met him, he felt like a perfect match for us. His personality shines through, he is passionate for what he does and has a willingness to learn. Pepyn is very appreciated among our employees and our client. We are so lucky to have Pepyn on our team. Read our latest interview, where Pepyn shares some advice for people ready to take their first career steps. 
What advice would you give to someone who is looking for their first job?
When looking at the requirements list in a job posting, don't view them as a list of "must-haves" but rather as a wish list. There will always be things you don't have experience with or haven't worked with, but as long as you have a few of the key items on the list you can learn the rest as you go.  Your willingness to learn is a more important asset than the knowledge you have right now.
Tailor both your cover letter and your CV for every individual job and company after doing proper research. Your CV and cover letter are not the entire application – they are the key to get you in the room for an interview. Keep it short and concise and make sure the person reading it will feel curious and want to interview you.
At Certaincy, I met with one of the developers as well as with the CEO, which gave me a good idea of the people I would be working with. In the end, I feel the people are most important. Assignments can be changed, job descriptions are usually flexible to some degree, but the people you work with really make the biggest difference.
What do you work with today?
I have an assignment at Volvo Cars where I manage the global rollout of a new tax calculation system.
What background do you have?
I am originally from the Netherlands and before moving to Sweden I studied Business Administration there. Here I studied Computer Science with a focus on Web development.
Why did you choose to start working for Certaincy?
At my interviews I got a very good feeling about the company, both the people that work there and the company culture in general. When talking with Lotta I really felt that she wanted to find me an assignment that was a good fit for me and both with her and in meeting the team I felt instantly welcome.
GÖSTA IT career fair
GÖSTA is a student career fair specialized in IT. It is organized by the IT department student union, cooperation between Chalmers University of Technology and the University of Gothenburg. Would you like to meet us, you have the opportunity to meet both Pepyn, other employees and  managers at GÖSTA career fair next Tuesday.
Stay tuned for more updates on our Facebook, Linkedin or Instagram page.